Monthly Archives:
March 2020
All Trinty exam payments need to be in by July 24th please.
Filmed exam pieces need to be in by 14th Aug
Candidates are required to film and submit a video performance of their chosen pieces, which will be marked to the graded/diploma exam criteria by a Music or Drama examiner.
Make sure that you've read these instructions before you start filming, to avoid unforeseen circumstances interrupting or negatively affecting the performance or the recording.
Setting up filming
Devices
Filming can be done using a good quality smartphone or tablet, or any good quality audio-visual recording device (e.g. digital video cameras, laptops) which will allow the examiner to accurately assess the performance.
The use of a tripod is recommended to improve camera stability. If you do not have access to a tripod, the device should be placed on a steady surface and kept still for the duration of the exam performance. Equipment such as selfie sticks, pop sockets etc can be used for ease of filming and stability.
Where possible, the camera should be positioned at the performer's eye level, to ensure that the viewing angle doesn't restrict the examiner's view of the performance.
If filming on a smartphone or tablet, consider turning the device to airplane mode, to avoid unnecessary notifications or calls interfering with the recording of the performance.
Location
You should film in a quiet room undisturbed by outside noise. Any internal noise should be kept to a minimum level. Consider turning nearby appliances off to ensure this, as well as devices such as fans and AC units.
Avoid phones ringing during the performance (both mobile and landlines), by switching them to mute/airplane mode, or leaving them in a separate room.
The room and performance area should be well-lit and without dark shadows or bright light (for instance direct sunlight from windows) that may make it hard for the examiner to see the candidate's performance.
Similar to being on a stage, you should be facing the light, avoiding having any bright lights behind you such as a window. This will ensure there aren't any unnecessary shadows covering you during your performance.
Candidates should have enough space to be able to perform effectively, and the room must have enough space to set up a camera to film the performance. The room should be safe for the candidate to perform in, free from any hazards such as cables, electrical sockets and wires that could be tripped over.
The room should have mains power supply and extension leads as needed for filming equipment.
If using a music stand, this should be at a height and distance that is comfortable for the candidate, without obscuring the instrument or candidate from view.
Filming settings
Remember that the submitted performance video has to be one continuous take, without editing separate takes together.
To ensure that the final video size can be managed by our online platform, lower the recording quality before you begin to record by turning HD off, if possible. Most recording devices have an option to change the quality of the recording in their settings. This won't affect the examiner's ability to assess your performance, but will make the delivery of the files much easier.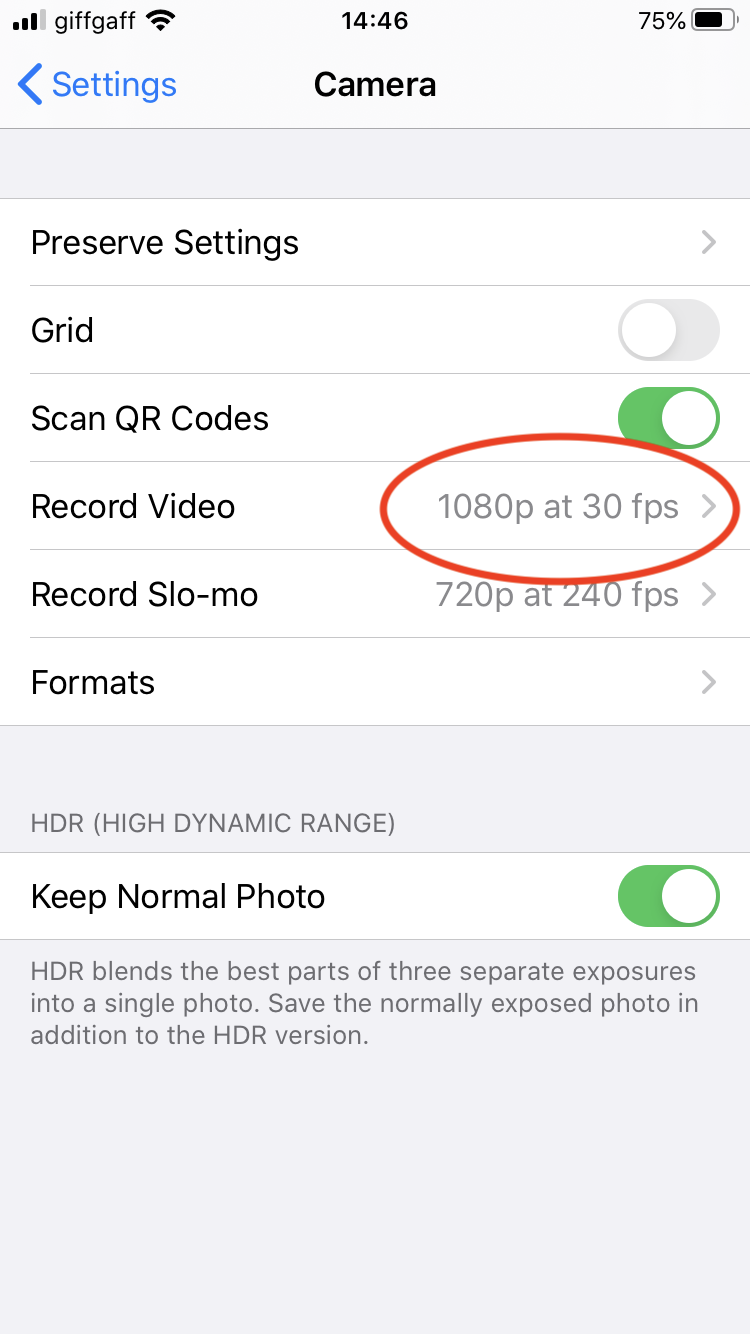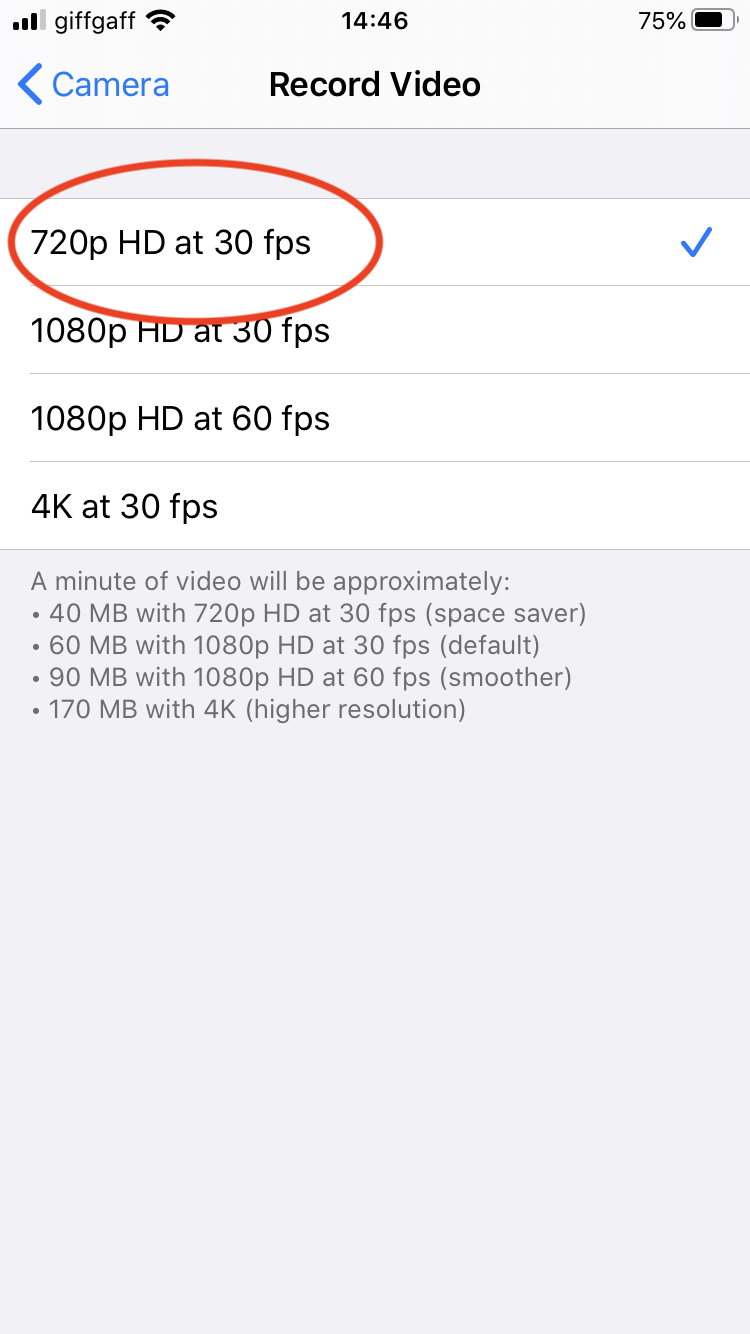 Ensure that the smartphone or camera has sufficient storage capacity to hold a recording the length of the exam performance, and that any batteries are fully charged, or the device is plugged in using the appropriate mains cables.
Another person can operate the camera, or the camera can be fixed during the performance. The camera must remain still and steady for the duration of the performance.
Most recording devices will adjust their brightness settings automatically, but you can always tweak them manually if you're not happy with them. Inside the camera app, you can tap on the screen of most smartphones and tablets, to point to those elements you want to be in focus and correctly exposed.
If the recording device is being held by another person, make sure that the microphone isn't being covered by their hand. Refer to the device's user manual, if you don't know where the microphone is located on your device.
We recommend that you test the camera and sound recording equipment by filming a short section of the candidate's first performance piece and playing it back to check the sound and video quality is suitable before filming the full exam performance. The sound should be loud and clear but without any distortion. Consider making a practice recording of a loud and quiet part of your performance, to check that any quiet parts are audible and any loud parts are not distorted.
Backing track:
If using a backing track, due care should be given to the balance of the solo instrument and the backing track during the performance.
You will need to run the backing track from a separate device that is loud enough for you to hear, and for the recording device to capture it. Where possible, the source of the sound should come from near the performer, to ensure optimal balance, as placing it too close to the recording device might result in the backing track being too prominent in the final recording.
We strongly recommend doing a sound check and recording test before filming your entire exam performance, to ensure you're happy with the final sound balance. Make sure you try out the quietest and loudest moments in the piece. Both you and the recording device should be able to hear comfortably the backing track at all times.
Frequently Asked Questions
What information do I need to give at the beginning of my performance?
You do not need to provide any information. You can simply start to perform.
Please remember to upload a word document (or similar format) of the pieces, composer (for classical and jazz), artist and which are your own choice and technical focus songs (for Rock & Pop), author (for drama) and order you are performing them in. You should film all pieces in one continuous recording.
You must not upload separate performances or edit takes together. Separate performances or edited videos will not be eligible for assessment.
Who can be in the room?
We recommend you have someone to help you operate the camera and any backing tracks. This person should not be in the video. If you have an accompanist, they do not need to be in frame.The examiner does not need to see the accompanist in the video.
Can I edit my performance?
No, you should film all pieces in one continuous recording. You must not upload separate performances or edit takes together. Separate performances or edited videos will not be eligible for assessment.
What format should I upload in?
You should upload your video and supporting documents in any of the following formats:

MP4
MOV
JPEG
DOC / DOCX
PNG
PDF

Videos and supporting documents in formats other than those listed above will not be eligible for upload.
Videos are limited to the following for each candidate submission:

Initial and Grade 1: 50MB
Grades 2 and 3: 100MB
Grades 4 and 5: 150MB
Grade 6: 200MB
Grade 7: 250MB
Grade 8: 300MB
Diplomas: 350MB
How should I label the video file?
Your file should be labelled with your name, subject and grade level
Yourname_ Musical Theatre _Grade(number)
Yourname_ Performing Arts-Grade (number)
Further advice
If you have any concerns about equipment, filming or room set-up, please contact us at:
If you have any technical issues with uploading your files, you can also contact technical support at digital@trinitycollege.com.